Home
›
SRP Editor
Welcome to the SRP Forum! Please refer to the
SRP Forum FAQ post
if you have any questions regarding how the forum works.
SRP Editor Theme
We have has a little bit of a problem recently with themes in the Editor.
We are currently deploying 3.2.1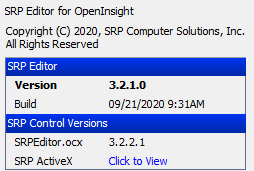 Basically, from what I can tell, the Themes have a way to set a color to be a special 'Default' pointer for any particular instance (keyword, comment, etc). It seems the later version of the Editor dont apply this special 'Default' but rather a color (in my case Black)?
This is an example of what I see: (I tend to use Solarized Light onsite without customising anything)

This is not a problem in my local for some reason but it has happened on 4 or 5 sites now with the new Editor/Utilities. I tend to use Plastic Wrap locally but even Solarised Light works fine.
I tried to export settings from my local as well as deploying 'working' SYSENV.SRP_EDITOR_THEME entries from there
This did not seem to be a problem in 3.1.0
Any ideas?