Home
›
SRP Panel Control
Welcome to the SRP Forum! Please refer to the
SRP Forum FAQ post
if you have any questions regarding how the forum works.
OI crash when click -> destroy newly created buttons within an SRP panel
Hi team
Thanks for the latest update. I'm not sure if I've got the intended download as the one I have from that link still says version 3.0.5?
I can see that something has changed, as now when I call the RemoveCtrls method and destroy the control (as per below) OI doesn't blow up which is great. However there seems to be a new bug whenever I right-click on any of these controls (it not a right click issue though, its related to the fact then when I right-click I destroy and recreate the controls again including the one I just clicked on). This recreation does work ok if its triggered from a control not within the panel (e.g. changing modules). Attached is the crash msg. If I don't DESTROY the control, then the crash doesn't happen, however the controls still appear in the panel - which doesn't seem right?
Please let me know if you need anymore info.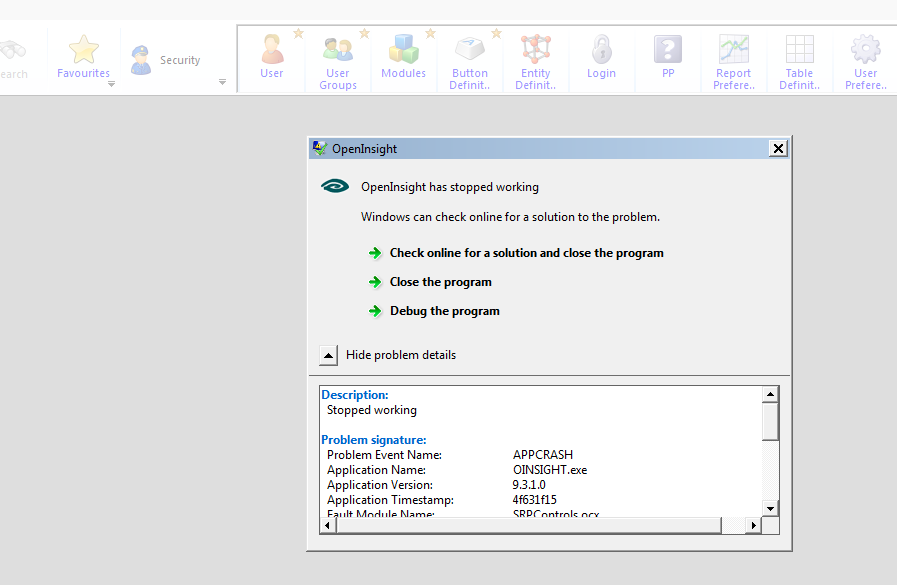 destroy_module_controls: existing_controls = get_property(window, var_module_ctrls$) no_of_existing_controls = fieldcount(existing_controls<item_control_pos$>, @vm) ctrls_to_remove = '' for i = 1 to no_of_existing_controls this_control = existing_controls<item_control_pos$,i> hwnd = get_property(this_control, 'HANDLE') if hwnd then ctrls_to_remove<-1> = hwnd Send_Message(ole_modulectrl_panel$, 'OLE.RemoveCtrls', hwnd) ans = Send_Message(this_control, 'QUALIFY_EVENT', 'OLE', false$) ;* de-register ole event destroyed = Utility('DESTROY', this_control) end next i return
User: Jamie Birnie