Home
›
SRP FrameWorks
Welcome to the SRP Forum! Please refer to the
SRP Forum FAQ post
if you have any questions regarding how the forum works.
FRW MAIN Menu
I've run across a rather unusal problem. I changed the accelerators for some menu items on FRW_MAIN. For example, I changed the accelerator for "Cut Row" from Alt+X to Ctrl+Shift+X . Everything works fine except the menu text still displays Alt+X when FRW_MAIN runs (see images below).
The FRW_MAIN record in SYSREPOSWINEXES and SYSREPOSWINS correctly show the new accelerator text and new accelerator values. If I do "Save As " and run the form outside of Frameworks, the menu displays as expected. So I'm quessing that something in Frameworks is causing this.
I've always added menu items (and accelerators), but this is the first time I have tried to redefine an accelerator.
I'm hoping someone can point me in the right direction. Thanks.
New accelerators In Form Designer: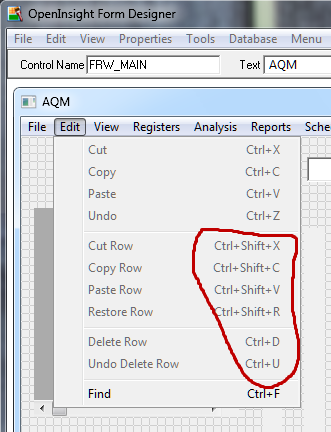 But when FrameWorks runs: