Home
›
SRP ReportTable Control
Welcome to the SRP Forum! Please refer to the
SRP Forum FAQ post
if you have any questions regarding how the forum works.
Reporttable crashing OI
I have a window that has four reporttables on it.
One of them is giving me grief so I'm looking for any and all thoughts/suggestions no matter how absurd.
I initialise the table the same as I do all the others. In fact, it is identical to one of the others on the window.
The only difference between the two is the source of the data.
They both consist of just four visible columns; a date, a time, a hyperlink for deleting the row and another hyperlink to view the corresponding record. There is also a hidden column.
I can load the list properties of both tables without issue.
The issue arises when I try to reset the list property of just the one reporttable. It doesn't matter what the content of the data is because even just setting it to null crashes OI.
Set_Property(ole_sql_errors$, 'OLE.List', null$)
Make the same call to the other table and it works as expected.
I renamed the offending reporttable. I removed it and saved the window, then readded it (actually copied and pasted the working control) and saved the window again. Still crashes.
If I change the progid to an edittable; it works. Not very elegantly mind you because I didn't initialise the edittable in any way but it still displays the first column of data each time I set the list property.
Change it back to a reporttable and it crashes again.
Confusing me because as an edittable it works. An identical table on the same window can be set and reset numerous times without an issue.
Happy to resave it whilst blindfolded and standing on one leg if anyone thinks that might help.
Here's the table displaying data loaded on the create event.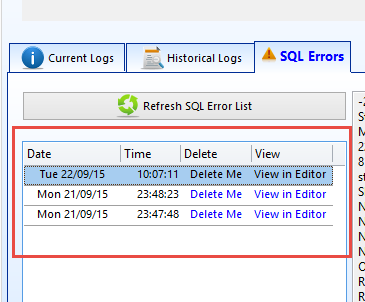 Then after clicking the 'Refresh' button above the table, the set_property mentioned above executes and then this happens