Home
›
OpenInsight
Welcome to the SRP Forum! Please refer to the
SRP Forum FAQ post
if you have any questions regarding how the forum works.
OI Licencing part 2
Sorry to revisit with more licencing questions but I am still having issues
The site in question is a bit complicated to trace but here is background.
It has 3 OI Systems, 2 of which have the same DNumber Rev licence.
(for SRP. 2 of the systems are an iTMS and Opto which share data. The other is standalone Opto)
All 3 systems serve Web/API via OEngines (Opto using OECGI 4.0.1.0, iTMS using OECGI3 because its old web app is hardcoded for it.)
They have a mix of Network and local RDS users.
All instances are Rev 9.4.6 running correct 9.4.6 version licence files.
Universal driver is now installed (4.7.2). Because of this I have been able to validate actually running users. my main problem now is that one of the systems (OECGI4) spins up a crazy number of OEngines that shouldnt be possible with the eserver config, nor does it seem to kill them off. We have to stop the service when the client complains.
This Opto system is one of the shared licences/shared data but there are no actual users. It only exists to serve APIs via SRP's HTTP Framework 4.0.9.7.
Below is the eserver snippet (we have made them fairly aggressive) as well as the running processes.
//Engine parameters //Number of connections to engine MaxConnections=0 //Number of engines allowed MaxEngines=3 //Max time in minutes allowed active in memory MaxUpTime=2 //Max time in minutes allowed run a request before 'hung' and terminated MaxRunTime=2 //Time in minutes can be idle IdleTimeout=1 //Time in seconds between checks for idle and uptime/runtime IdleCheck=30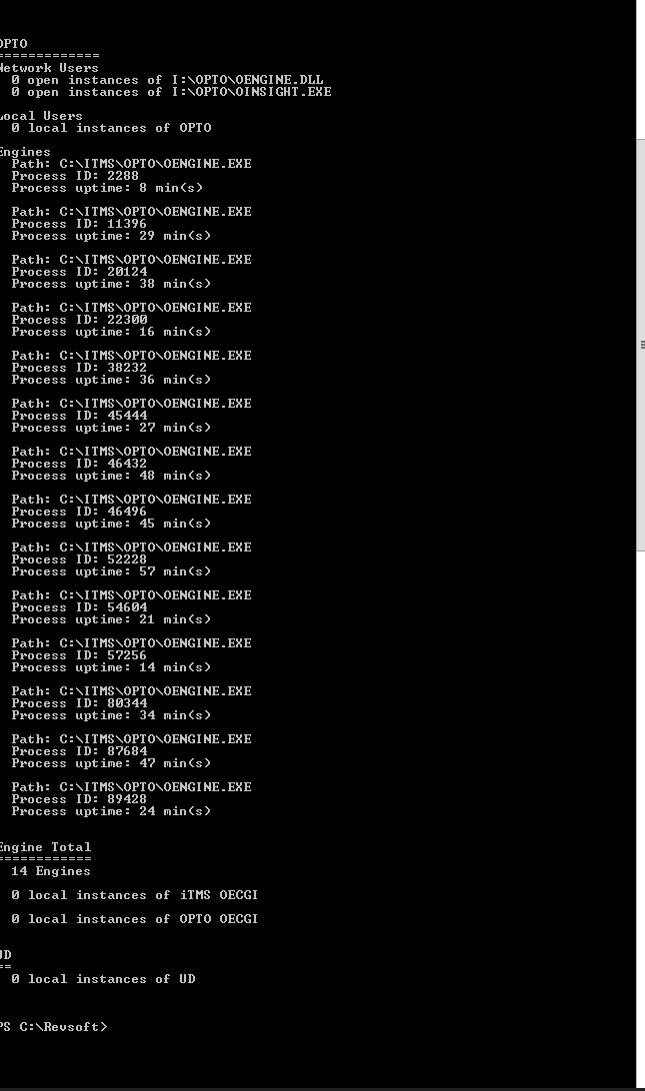 Main question. Why wont these die off?
Related questions:
- How can OEngine spin up more instances than MaxEngines in eserver.cfg (running for long past MaxActive/Hung with a very short Idle/Check time)
-
- Does each OEngine.exe take up a licence or is it the actual OECGI calls queued? (i beleive it is the Engine but happy to be wrong)
Side question:
- In a normal OI system is Rev counting Oengine.dll or Oinsight.exe as the licence use (as I have seen seen some systems with multiple oinsight processes and only one OEngine lock for a network user)