Home
›
OpenInsight
Welcome to the SRP Forum! Please refer to the
SRP Forum FAQ post
if you have any questions regarding how the forum works.
Selecting text in a list box
Does anyone know if it's possible to do this in an oi list box: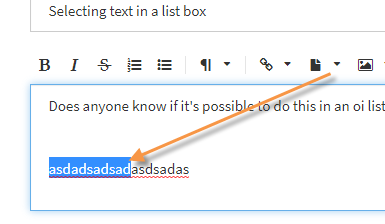 I.e., select text inside of the list box using your mouse. In an edit box you can do it, was wondering if it was also possible in a list box. By default, it's not. Is there some property I can set?